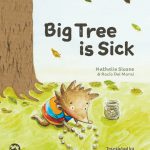 Snibbles and Big Tree are very good friends and they spend lots of time together. One day, the doctor finds woodworm disease in Big Tree's bark and Snibbles's world is turned completely upside down! How can Snibbles and his friends help Big Tree get better?
The story of Snibbles and Big Tree shows young children how to deal with the emotions they experience when a loved one is diagnosed with a serious illness. With activities, art projects and philosophical thought exercises, this book is the perfect companion for children aged 3 to 10 to read with their parents or professionals in times of illness and distress.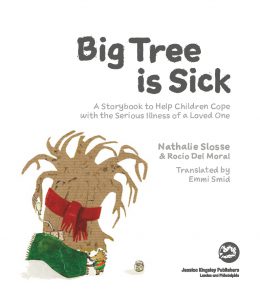 Big Tree is Sick is published by Jessica Kingsley Publishers (hard copy and e-book).
Available from Amazon (you can have a look inside over there), from Koffertje Troost, from good book shops and from the publisher.
Goodbye Big Tree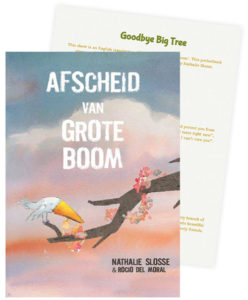 At the end of the book 'Big Tree is sick', Big Tree slowly recovers. Unfortunately, this isn't the case for everyone. Some patients eventually get the message that they are terminally ill.
The customizable pocketbook 'Goodbye Big Tree' aims to involve children in the last phase of the illness. Together with Snibbles, they discover what happens when the woodworms win. The pocketbook can be used on its own, but it is advised to read 'Big Tree is sick' first.
The strength of the pocketbook is the flower garland at the backside. Family and friends can give a personal touch to the black-and-white illustration and in that way show their support.
Goodbye Big Tree is available as a pocketbook in Dutch (Afscheid van Grote Boom) with the English translation of the story provided on a separate sheet that can be used alongside the illustrations in the Dutch book. This translation sheet is an initiative of 'Koffertje Troost'. Just like Talismanneke, Koffertje Troost offers support to parents and other carers, helping them to involve and include children when emotional life events occur.
About the author
The story was written by Nathalie Slosse, based on her own experience as a mum with breast cancer. In 2007, Nathalie was diagnosed with breast cancer. In the turbulent and trying period that followed, she struggled to explain the events to her two year old son. That's when she  decided to use these circumstances as a source of inspiration for positive action. After
recovering from her illness, she wrote a booklet to explain cancer to very young children and to give them the means to deal in their own way with the life-threatening illness of a loved one.
Reviews
Macmillan Cancer Support: (several review written by people affected by cancer)
"An excellent book; the author and illustrator should be highly praised for it."
"Fantastic book. Just the right balance. Highly recommended."
"It is very easy to understand, in child friendly language, and the analogies used to explain illness are excellent."
Little Parachutes: "The author has included lots of comforting words and messages of hope for children who are dealing with a life-threatening illness of a loved one."
Red Reading Hub: "With delightful illustrations and some extremely useful suggestions for activities and strategies at the end of the story, this book portrays the powerful feelings and emotions that children are likely to exhibit when a family member or a close friend is diagnosed with a serious, debilitating illness, cancer for instance."
Healthy Books: "Told in simple terms that even very young children can understand, the information as well as the story in this book is spot on, and the fact that the problem is happening to a tree and a little animal removes the undoubted seriousness of the illness just that tad further from reality, giving the child hope."
On the website of JKP, Dr. Riet Fiddelaers-Jaspers, a well-known bereavement specialist and therapist and author of many books for children and adults on this subject:
"Nathalie Slosse has written a brilliant… book for children. The author knows from the inside what happens with children when they have to deal with a parent who is very ill and maybe is going to die. The illustrations of Rocio del Moral are very helpful in explaining to children what is happening. Nathalie has also developed exercises for children helping them to cope with the experience of a parent who has been diagnosed with cancer. I really recommend this excellent book."